Fun Things to do at Home with Your Pet
With all of this extra time that we're getting to spend at home lately, we could all use some fun ideas to pass the time. Why not include your pets in all the fun too?
Here are a few ideas of activities you can do at home with your pet:
1. Petflix and pats –
Take advantage of all this extra time you have to spend with your pet by snuggling up on the couch with them and watching a movie, have a nice little Netflix and pats session. There are some great classic dog and cat movies out there that you and your pet are sure to love watching together! Spending quality snuggle time with your pet also helps reduce stress, isn't it the best?
2. A trick a day –
Compile a list of all the tricks you would like to teach your dog and tick one trick off each day. Use lots of positive reinforcement and persistence to encourage your pet to perform the trick you have in mind – and don't forget the treats! Training your pet to learn a new trick can take as little as 15 minutes a day and provides a great source of mental stimulation for them at the same time! If you get stuck on what to do, there is an abundance of online training platforms available for pet owners to take advantage of.
3. Enrich their minds –
Alongside a training session to learn a new trick a day, you could try other forms of enrichment to give your pet's mind a workout. When your pet uses their brain to complete an activity, it can tire them out even more than any physical exercise will, thus curing the boredom-induced behaviours like chasing their tail or destroying everything in sight.
Some mentally stimulating activities include:
– Set up a puzzle or enrichment toy with hidden treats for your pet to work out how to obtain the treats.
– Freeze some treats mixed with water or broth, stuffed inside one of their favourite toys, like a Kong, and let them spend some time licking their way through the toy to get to the treats. Wellness CORE Simply Shreds are perfect for this!
– Set up a little treasure hunt for your pet by hiding their kibble in the backyard. Using their olfactory senses to find their food is one of the best ways to get your pet to work their brain. You can also leave a scent trail for them to follow using different types of essential oils leading to a jackpot of rewards like treats or toys.
– Encourage your pet to use their wild side and set up a dedicated sandpit for them to dig through. Hiding treats, toys or other scented items will encourage them to dig through the sand and find their reward.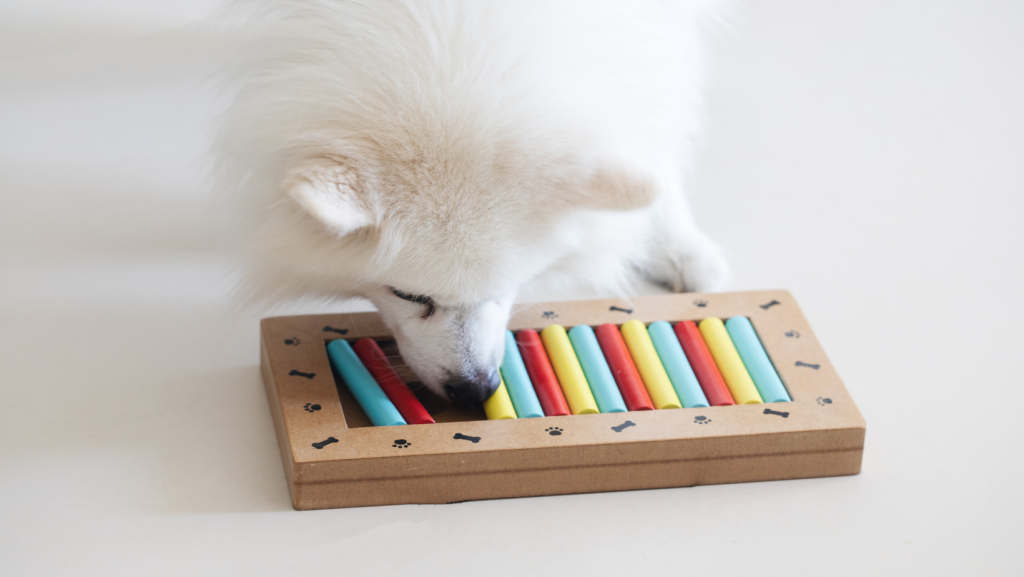 4. Lights, camera, action! –
Create a bit of innocent fun by setting up a photoshoot at home with your pets. Pull out some old costumes and props you may have laying around the house and get creative with some cute photos to look back on later and remember your fun. You could even showcase your creativity by setting up an Instagram page for your pet's photos and use it to get to know other pets in your area via social media. Another great way to have a bit of fun with technology is to produce some funny Tik Tok videos of your pet!
5. Let's play –
There are so many great ways to play with your pet at home such as playing tug of war with a toy, playing hide and seek, throwing the ball for them to fetch or playing a full-on chasey game with them. Chasey is such a great way to get both you and your pet moving around at home! Just make sure you always get your pet to chase you, not you chasing them. Chasing your pet can lead to them running away in other incidents where you're running towards them and isn't ideal if they've escaped out into the street, for example. Running away from your dog and getting them to chase you is a great game but is also a great tactic in getting them to come back to you when they've wandered afar at the park – just start running and they'll soon follow!
The best part about having playtime with your pet is that it increases your bond with one another.
6. Doggy playdates –
As much as your pet loves spending time with you all day, they would also love to spend a bit of time playing with some of their doggy friends too. Invite some of your pet's friends over for a playdate and watch them have fun frolicking in the backyard together. This is also a great way to work on their socialisation skills in their home environment where they learn to share with another dog. Plus, it's great for you because twice the dogs equals twice the cuddles, it's a win-win situation!
7. Spa day –
Treat your little furry friend to a pamper day at home surrounded by soapy bubbles and treats, they're sure to feel relaxed after! If your pet enjoys bath time, give them a relaxing bath followed by a nice, warm blow-dry to puff out that fur – rewarded with lots of treats, of course! Follow it up with a stress-free nail trim, massaging brush-out and then finish it off by covering their paw pads in a soothing paw balm for nice, soft feeties. Making your pet feel nice and fresh is also quite therapeutic for you too!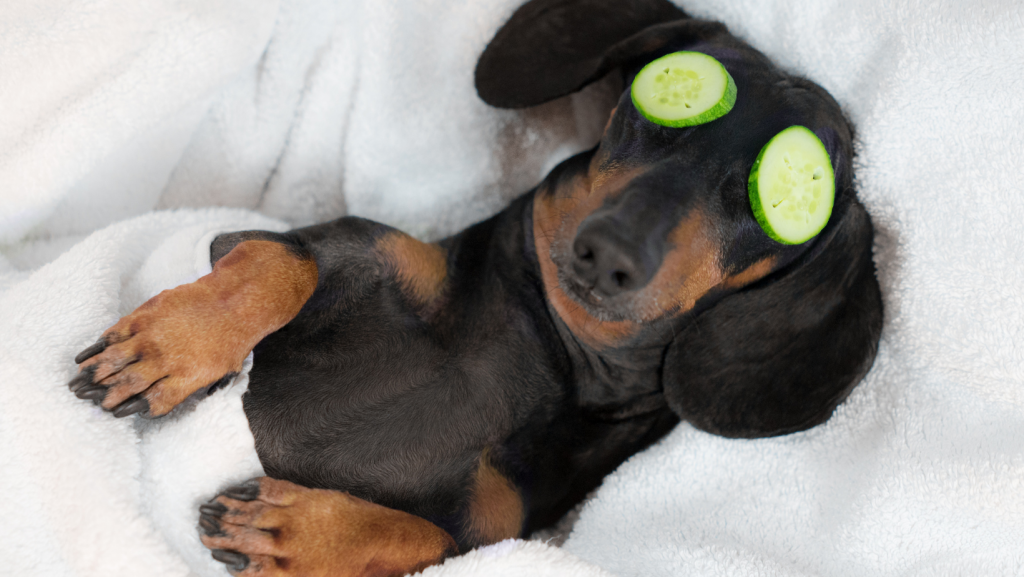 8. Breath of fresh air –
If it's a beautiful day, take your pet to go and sit outside with you and catch some rays. You could sit and listen to some music together, play a few games of fetch or just have a little siesta under the warm sun (don't forget the sunscreen of course!).
9. Go for a W-A-L-K –
Don't say the word if you don't mean it! Take your pet out on a nice walk around the neighbourhood to soak in your surroundings and let them sniff everything until their heart's content. It's also a great way to get out and get moving after being in the house all day, meet your fellow neighbourhood dogs and humans, chase some birds and get your steps up for the day.
10. Bake my day –
With all of the information available to us via the internet nowadays, there is an abundance of resources with baking recipes available at our fingertips – and they aren't just human recipes either! There is a huge variety of dog-friendly and cat-friendly baking recipes you can whip up in the comfort of your very own kitchen that your furry little friend is sure to love, and to help you with – that's if they're promoted to the executive treat tester, of course! Try baking some homemade treats for your pets and see how they like them compared to their other treats in the pantry.
Now that you've got a full list of fun activities to do at home with your pet, you're sure to never be bored again – enjoy!