Your Pets Can Enjoy Easter Too!
As Easter comes around each year, we all start stocking up on our chocolate eggs and bunny decorations ready for a long weekend of fun and excitement, but let's not forget about our pets over Easter! There are some fun activities they can be involved in too, whilst also keeping it safe to do so. Check out our handy hints below to see how you can involve your pet in the Easter holiday fun!
Have a hunt, minus the chocolate!
We all know the best thing about Easter is waking up early in the morning and having an Easter egg hunt, running around with our baskets and filling them up as we find each little egg hidden by the "Easter Bunny". As we know, dogs love to use their little sniffers to find all sorts of smells and objects wherever they go, so why not put it to work and let them have their very own Easter hunt? You could involve your dog in the Easter fun by hiding their favourite Wellness CORE kibble around your house for them to sniff out and find on Easter morning! This can also help tire them out if you have lots of family joining you for the day.
Let's not forget about our feline friends! You can include your cat in the Easter "egg" fun by creating an Easter-themed puzzle for their mealtime. Simply divide their meal, their favourite treats, into 12 individual portions and distribute it out evenly into an empty egg container to slow down their eating or spread throughout the day!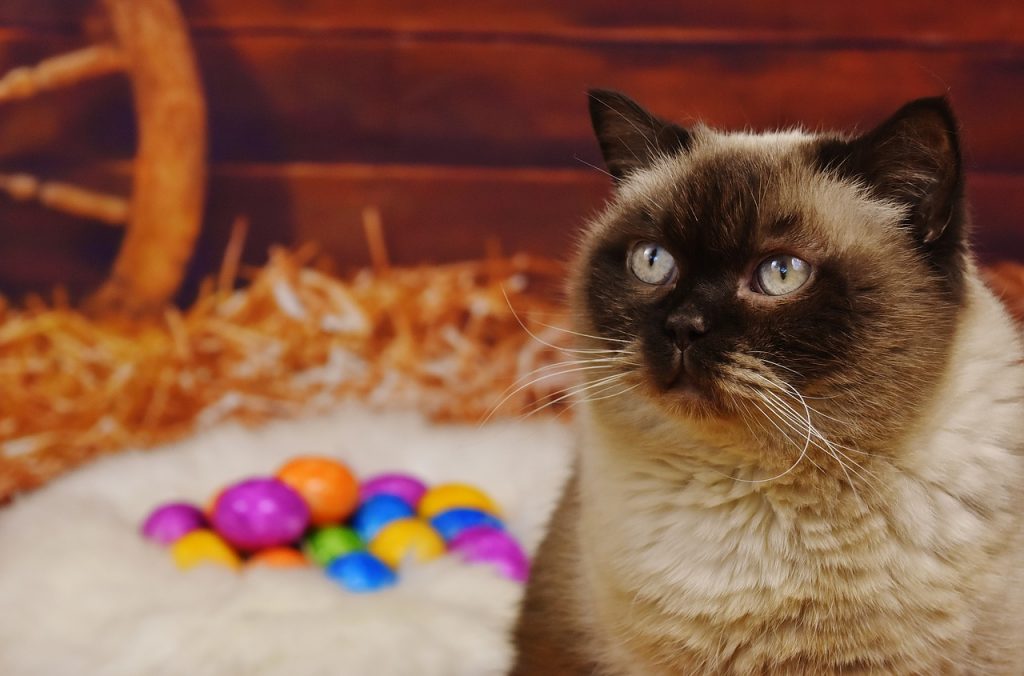 Easter treats, just for your pets
While we're all snacking on our chocolate Easter eggs and baked goods, your dog could be enjoying an Easter treat too! Now obviously we won't be giving our dogs any chocolate, as it is toxic to our furry friends, so instead you could give them a nice, crunchy carrot to chew on – just like the Easter Bunny would! Carrots are a great way to keep your dog occupied, as well as providing them with a low-calorie source of vitamins A and C, potassium and fibre!
Some of our Wellness wet cat food recipes contain eggs so if you would like to include your cat in the Easter egg tradition, this is a great way to do so! Eggs are a great source of protein and Vitamins A and D and are used in all of our Wellness Healthy Indulgence recipes for cats.
My dog ate some chocolate, what do I do?
If your pet has 'indulged' in some Easter chocolates, please call your local veterinary clinic immediately. It is a good idea to have a clinic's number handy prior to the Easter holidays, as well as researching who will be open over the Easter long weekend, to save yourself searching in a hurry. Be sure to keep chocolate out of your pet's reach to avoid any unfortunate events!
Some other Easter goodies to avoid
As well as chocolate, there are some other Easter goodies that can cause toxicities or problems with your pet's health. Here's our list of some other common items to avoid over Easter:
Lilies – Easter lilies are a common decoration and gift over the Easter holidays although they are also a great threat to your cat and can be fatal if ingested. All aspects of the flower have the potential to harm a cat so please contact a veterinary clinic immediately if your cat has ingested any part of an Easter lily. Although Easter Lilies are the most common type of lily at this time of year, it is also important to note that other types of lilies are also toxic to cats.
Xylitol – an artificial sweetener used in many sugar-free gums, lollies, baked goods and even mouthwash. Be aware of any lollies or foods that may contain xylitol and contact your vet immediately if your pet has ingested any.
Easter Decorations – Easter basket fillers, plastic Easter grass, plastic eggs, foil wrapping and Easter toys are very enticing for pets to chew on. These decorations, if ingested in large quantities, can result in serious health problems such as obstruction, gastroenteritis (upset tummy), and pancreatitis. Be sure to keep the Easter baskets and decorations far out of your pet's reach.
Fatty Foods – Fatty foods such as ham, lamb and pork are often served at Easter lunches and dinners but be careful with allowing your pet to eat these Easter delights. These fatty foods can cause problems such as stomach upsets or even worse, pancreatitis, resulting in pain, vomiting and dehydration.
Hot Cross Buns – We all love a good hot cross bun over the Easter weekend and we're sure your pet would love to join in on the tradition too although most hot cross buns contain dried fruits, such as raisins. Raisins, grapes and sultanas are very toxic to our pets so it's safest to leave the hot cross bun tradition to us humans! If your pet ingests anything containing these fruits, contact your local veterinary clinic immediately.
Most of all, have fun!
As well as being cautious about what your pets ingest over the Easter holidays, be sure to sit back, relax and enjoy your Easter fun! Treat your pet to a wholesome meal of one of our Wellness recipes and they're sure to enjoy Easter just as much as the whole family would.
Happy Easter! 🐰🐣