Make every mealtime count.™
At Wellness®, we do whatever it takes to create the healthiest natural foods for the pets that depend on us. And that starts with the best formulations using the best ingredients.
At Wellness, we believe that the food that you give to your pets should do more than just satisfy their appetites. It should provide the foundation of whole-body health your pet deserves. That's why Wellness natural pet food for dogs and cats provides much more than just the minimum nutritional requirements. In addition to our carefully selected all-natural nutrients, we add other beneficial natural ingredients like glucosamine, probiotics, omega-fatty acids and anti-oxidants for a lifetime of wellbeing for your pet. Without the use of fillers or artificial additives, our specialised natural nutrition gives cats and dogs more in their food so they can get more out of life.
The Wellness Difference is about being more than natural. And it's not about what is left out – no fillers or artificial ingredients – these are a given for us. True Wellness is about what we put in – a small number of simple, pure, authentic and only the highest quality ingredients. All our recipes are thoughtfully crafted with the utmost care to ensure they contain only high quality ingredients with a purpose. Ingredients you have heard of: real foods, not artificial concoctions.
At Wellness, we carefully craft each recipe. We want to ensure that there is a recipe specially designed for every healthy pet, to help keep them healthy, and to truly thrive. That's why we have a range of proteins and recipes for different ages, sizes and lifestyles. In our recipes, you won't see a 'cookie cutter' approach, with just the first ingredient changing from one protein to another. Because we don't believe that approach will offer the best nutrition for pets.
We start from the very beginning with every single recipe to create the very best nutrition for every pet: thoughtfully sourced ingredients with a purpose in just the right proportions to meet that animal's special nutritional needs. That means a different ingredient list for every single recipe.
What goes in to our dry diets?
Highly Digestible, Beneficial Ingredients
Quality Protein Sources for Strong Muscles
Wholesome Carbohydrates for Healthy Fibre and Energy
Rainbow of Fruits & Vegetables for Antioxidant Protection
Omega 3 & 6 Fatty Acids for Skin & Coat Health
Glucosamine and Chondroitin for Joint Health
Taurine for Heart Health
What stays out of our foods?
No Meat By-Products
No Rendered Animal Fats
No Corn
No Dairy
No Soy
No Artificial Preservatives
No Wheat
No Added Sugar
No Artificial Flavours, Colours or Dyes
At Wellness, we know healthy doesn't have to be hard. That's why we offer a simple, holistic approach to pet food that focuses on real ingredients with real benefits. Love Mealtimes. Live Wellness.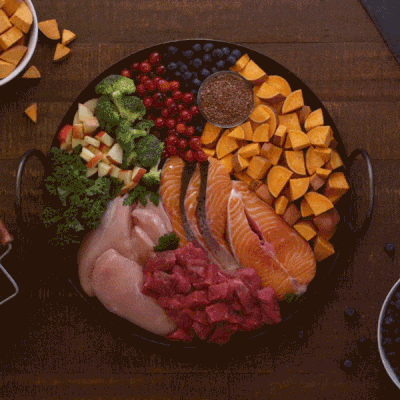 Here is an A-Z of the ingredients we use in our recipes.