At Wellness, your pet's health is at the core of all we do. That's why we have developed an extensive quality assurance program, guaranteeing that our products are safe and balanced.
All our dry recipes are produced at our company-owned manufacturing facility in Indiana, U.S.A. 
Our wet recipes for dogs and cats go through a rigorous quality and safety program. Check out the step-by-step process of how our canned recipes are made.
Our mission is to provide you with wholesome, natural pet food that is the best it can be. Nothing is overlooked in our quest for excellence. We require all suppliers to meet stringent requirements and adhere to the highest standards, exceeding even the strictest requirements from the FDA. We are determined to go further, to do better and to take as many precautions with our pet food, as is taken with food for humans. Because at Wellness, we are passionate about providing your pet with safe, uncompromising nutrition.
Here's all the path of our dry food from farm to your pet's plate!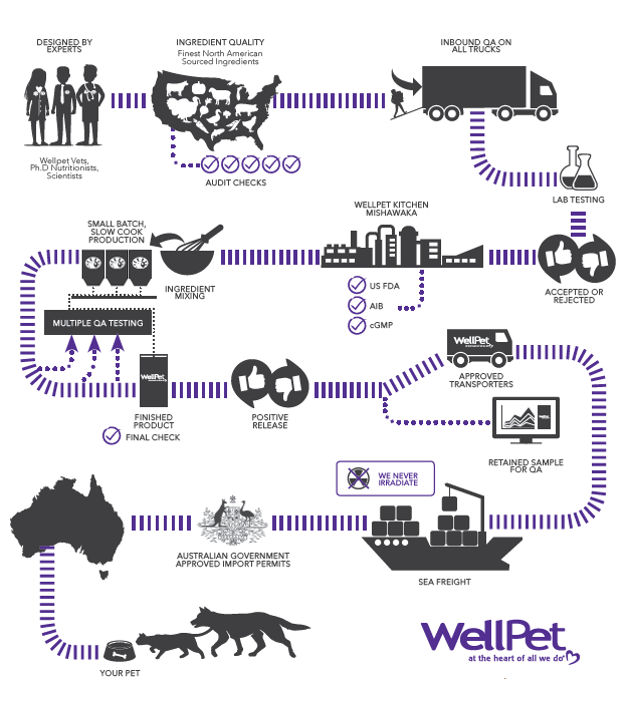 Quality at Every Step
We employ rigid manufacturing procedures and other protocols, enabling us to produce nutrient-dense food that is safe, wholesome and delicious. Throughout, the entire manufacturing process, every ingredient is carefully handled in order to preserve the vitamins, minerals and other nutrients. The end result is a completely balanced formula that will nourish your pet's body and soul. Watch our manufacturing process in action.
Wholesome Ingredients for a Lifetime of Wellbeing
We use only the finest ingredients that will promote your pet's wellbeing, maintain their energy and help them glow with a sense of overall health. Artificial flavours, preservatives and other chemicals are never included in our foods. Instead, we select a small number of pure, authentic ingredients that are brimming with the nutrients your pet needs to thrive. Our ingredient selection process is rigid, uncompromising and detailed. We believe in food that is safe. We believe in food you can trust.
Utilising Only the Most Conscientious Suppliers
Our passion is to provide uncompromising nutrition to the pets who depend on us. This means we choose only the most respectable, trust-worthy suppliers who can deliver superior ingredients. We scrutinise every supplier and test every ingredient to make sure it is the best it can be.
Unsurpassed Food Safety Programs
During production, rigorous standards and practices are put in place to protect the nutritional integrity of our food. Our processing plant is meticulously sanitized in order to control bacterial growth or pest infestation. In our zeal to provide you with only the highest-quality pet food, we take extra precautions to make sure ingredients are stored properly, temperatures are monitored and products are routinely tested. We believe these measures are absolutely essential to producing the finest pet food that can nourish and energise your pet to the core. Our food is carefully handled, carefully prepared and undoubtedly safe.
Pure, Complete, Balanced
At Wellness, we are committed to producing incredibly flavourful pet food with the ideal nutritional balance. This means that every step in the process—from ingredient selection to packaging is carefully monitored. Our employees are highly trained in each task they are responsible to complete, making them in an invaluable part of our team and enabling us to deliver the Wellness Promise. We are always looking for ways to improve our manufacturing practices and systems. We regularly check, analyse and scrutinise our methods to see if there is any way to excel even more in these areas.
Careful Oversight & Attention to Detail
We understand that superior products are never created in a vacuum. It takes a series of carefully executed steps to create a food that is as healthy and balanced as ours. Every step is monitored. Every detail is carried out precisely and skillfully. Ingredients and products are tested throughout the entire manufacturing process to ensure that the nutrients are never compromised. These testings take place before the ingredients are processed, during processing, after production and before the product leaves the plant. Through careful oversight and an unwavering devotion to quality, Wellness is proud to produce a pet food that is safe, wholesome and beneficial to your pet's health and wellbeing.
Committed to Superior Customer Satisfaction
Our quality assurance program includes regular contact with our customers, distributors and retailers. In this way we can address their concerns, answer their questions and provide them with additional information or feedback. We are always here for you and your pet. Regular communication with our suppliers is also a high priority as it allows us to be sure that the quality of their ingredients remains consistent.
Pet Food You Can Trust
Our comprehensive quality assurance program means that your pets will receive the finest food nature has to offer. They can enjoy the benefit of rich, wholesome ingredients that maintain their nutritional integrity and natural quality. From fresh meats to juicy fruits and fibrous vegetables—everything is carefully processed to preserve vital nutrients. So when you open a bag, pouch or can of Wellness, you will be able to smell the sweet aroma of fresh, quality ingredients. This is where true wellness begins.