Are you the proud new owner of special cat or kitten? That's awesome! Cats have the ability to bring a certain kind of love and affection into our lives that no other pet can match. So, what does your cat or kitten need from you? Well, we're glad that you asked! There is a definite checklist of necessities that your new addition will need in order to thrive in their new loving home.
1.     Identification
Every cat needs to have the proper identification, regardless of whether they are an indoor or outdoor cat. All it takes is an open door for your cat to get curious and dart outside without anyone knowing. Make sure that your cat has a collar with an ID tag and/or a microchip to avoid them getting lost.
2.     Food and water bowls
Stainless steel or ceramic bowls are recommended for food and water, as some pets can have reactions to plastic bowls.
3.     Guide Book
It can't hurt to pick up an educational book or two that will answer any likely questions you have along the way of caring for your new cat or kitten. These books can be extremely informative and can save you some stress if a problem arises.
4.     Comfy bed
Even though your cat's favorite spot in the house may end up being a basket on the kitchen counter or maybe even the bathtub (we're not kidding), it's nice to provide them with a comfy bed that they can use for the occasional, and by occasional we mean frequent, cat naps.
5.     Litter box(es)
This one is definitely a necessity for obvious reasons. There are different types of litter boxes out there, and your best bet is to just choose the one that you prefer and if your cat doesn't seem to be responding well to it, experiment with a different type. The key is to make sure that you place your cat's litter box in a quiet, private spot in the house – cats need privacy, too!
6.     Cat Carrier/Crate
Having the proper cat carrier is essential to be able to safely transport your cat to and from vet appointments as well as for any necessary traveling. Cats typically do not respond well to traveling freely in a vehicle – the carrier will actually make for a more pleasurable experience for your cat.
7.     Scratching Post
One of a cat's most natural instincts is to scratch. They do this to remove dead nails, mark their territory, and to stretch their bodies. Trust us, your household furniture will suffer in the absence of a proper scratching post, and these products have come a long way! You can even build your cat a luxury resort, complete with plenty of scratching and sleeping areas.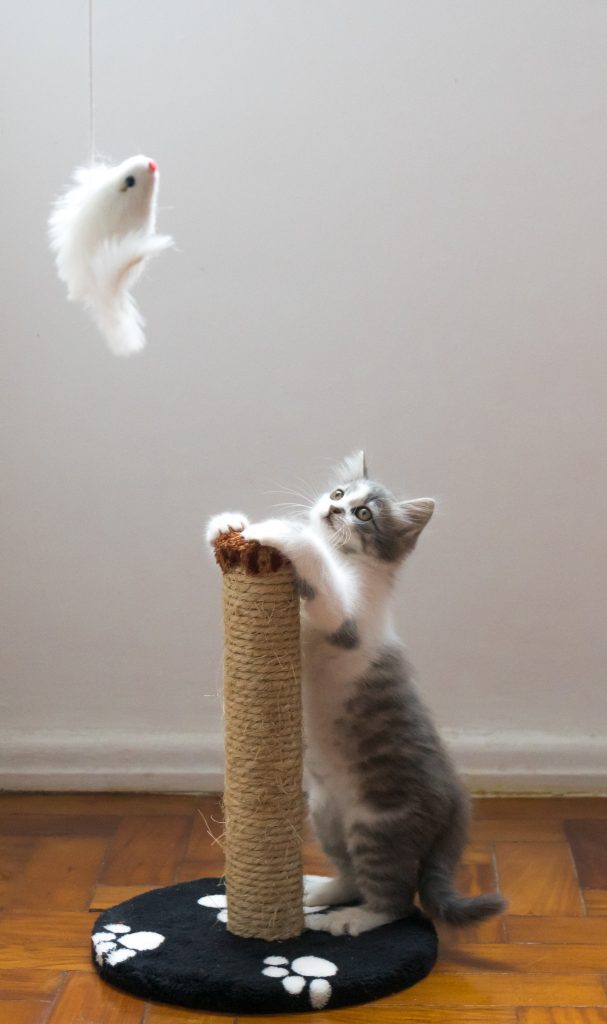 8.     Toys
Cats and kittens are known for their frisky behavior and scheduling playtime is an important part of socializing your new cat or kitten. Make sure to have a few toys available for playtime and if you really want to spice things up (no pun intended), you can sprinkle them with a little catnip!
9.     Grooming Tools
While cats are known for their self-cleaning abilities, they still need a little help from you to keep their beauty routine in check! Make sure you have proper brushes, safety nail clippers and teeth cleaning supplies to use during your scheduled grooming sessions.
10. A Healthy Diet
One of the biggest responsibilities of owning a cat or kitten is providing them with a healthy diet. It is important to pay attention to the ingredients that you are feeding to your pet in order to make sure that they are receiving a healthy, well-balanced diet with the proper nutrition. Wellness Pet Food offers a variety of different healthy recipes for your cat or kitten. Every cat is different and Wellness has a recipe that will cater specifically to your cat or kitten's needs.