Ah, the lazy days of summer are here. Why not make some fun summer memories with your pooch?
Here are 10 fun ideas for you.
1— Go for a long walk early – Whether you like to hike or simply stroll the city streets with your pet, take him or her out for an extra-long walk.  Just make sure you do it early before it gets too hot. You'll both benefit from the increased exercise.
2- Pack a picnic (for both of you) – Take your dog to a relaxing outdoor setting and enjoy a meal together.
3— Freeze a bandana—Soak a bandana in cold water and put it in the freezer for a couple of hours. On really hot days, you can tie it around your dog's neck to help him cool down. This can help keep your pet safe on stifling summer days.
4— Hold a photo session—Whether it's in your backyard or at a local park, get your pup posing for fun memories. If you really want to take it up a notch, hire a professional pet photographer.
5—Take your pet to the pet store—Let her pick out a new toy. Does your dog prefer chasing balls or destroying stuffed animals? Show her a couple of toys and let her choose.
6—Take your dog on vacation – Beach or mountains? No matter which you prefer, there are tons of pet-friendly options to choose from these days. Just make sure to make a reservation since it's a busy time of year.
7— Try a dog activity you've never done – Dog Agility Courses or Canine Freestyle (dancing with your dog) are fun options.  Who knows, you might find a new hobby!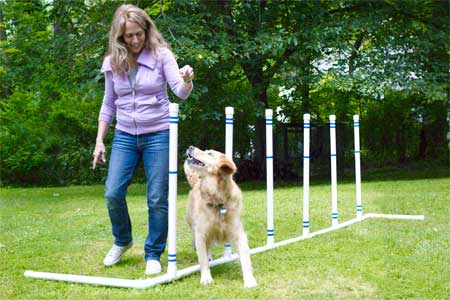 8–  Hunt for buried treasure –Geocaching is a fun activity where you use a GPS to locate hidden treasures near you.
9-Sprinkler fun – Set up a sprinkler on a hot day and watch your dog go wild with excitement.
10- Host a backyard pawty. Do you have a fenced in yard? If so, invite a few friends and their canine pals. Plan a few games like "Find the Treat" where you hide treats around the yard. You could even set up a simple obstacle course with a few cement blocks and boards for something to jump over. Add a wading pool at the end for water-loving pooches to cool off.
So there you, 10 fun ideas for you and your dog.  Which will you do this summer?