Every Halloween, the streets are lined with frightening strangers – decaying mummies, wicked clowns and hungry zombies – arriving at your door every few minutes demanding a gift of food for their bags.  This is what Halloween is like for your pet, and it can be terrifying! Add on to that a few holiday safety hazards and the stage has been set nicely for disaster.  Keep your pet safe this October 31st with these tips:
Trick or Treat
Treats
Halloween candy is the bane of dentists everywhere, but also a regular presence on Halloween night in emergency veterinary clinics. Something that tastes so wonderful to us can be incredibly dangerous for our four-legged roommates.
Chocolate – Halloween provides easy access to this deadly treat, especially when you have a fully-stocked bowl of those amazing chocolate-and-peanut-butter pumpkins. Chocolate is dangerous to both dogs and cats, and can be lethal, and the symptoms include diarrhea, quick breathing, high heart rate, vomiting and even seizures.
All Other Candy – A good rule of thumb when it comes to all candy for your pet is this: don't do it. Even non-chocolate candy is dangerous, as it may contain, xylitol, an artificial sweetener that can cause a sudden drop in blood sugar and seizures.
Tricks
All Hallow's Eve is also called the "Mischief Night," and while many practice harmless pranking, sadly many beloved pets fall victim to those with less honorable intentions. Many animal shelters will not allow any black cat adoptions during the month of October, to deter any would-be cruelty inflictors. No matter how deplorable, it can be avoidable, so keep your pets inside on the days surrounding Halloween.
Monsters
People in Costumes
If you live in a kid-friendly neighborhood, you better stock up and leave the porch light on, because they are coming for you. While it's fun for us to 'ooh' and 'ahh' over the creative costumes America's youth is donning this year, it's 100% terrifying for your pets. "Who are these strangers at the door? Why do they keep knocking on the door? Why do you open the door, and then why do they yell? I'm pretty sure I just saw a zombie." While we can't really explain this October holiday with our pets, we can take certain steps to make sure they're as comfortable with the situation as they can be.
Pick a room far away from the front door and designate it the pet room for the evening. Turn on low music or a television in the room so sudden knocking or doorbell-ringing isn't quite so jarring. Buy yourself some time with a few treats and chew toys.
If pets can't be confined to one part of the house, at least make sure they have no access to the front door. With so many constant openings and closings of the door, all to reveal strangers in costume, it's easy for Fluffy to slip out into the night for tricks of her own.
Your Pets in Costumes
Be sensitive to your buddy. While many pet costumes are hilarious and adorable, it's important to make sure that your dog or cat is okay with wearing whatever you have chosen. I'm not saying that he's going to choose whether he wants to be Lady Gaga or a hotdog, but he can let you know quickly if the costume doesn't fit.  You wouldn't want to wear an uncomfortable costume all night, so don't put your pet in something tight, restrictive, irritating, itchy or painful.
The one costume your pet should not go without this Halloween is an identifying tag, engraved with your phone number. Many pets go missing on Halloween, so make it easier for rescuers to reach you when they find your dog.
Pumpkins
Pumpkin is a delicious fruit can be a nice addition to your pet's diet. However, Halloween presents its own set of dangers when it comes to the cheerful orange decoration.
Too Much of a Good Thing – Pumpkin in small quantities can act as a natural regularity booster, but too much can quickly up that power to laxative and even intestinal blockage. Make sure any decorative pumpkins are not within easy access to dogs and cats, who may just decide they're going to eat the whole  pumpkin before you even realize it's happening. Similarly, another fall decoration, corn, can also cause gastrointestinal problems, so keep it out of reach as well.
Jack-O-Lantern – You certainly want the neighborhood to enjoy all the hard work you put into your jack-o-lantern, but don't forget that the unusual glow from the candle can attract more than trick-or-treaters. Keep pets away from any items that have a flame, including pumpkins and decorative candles.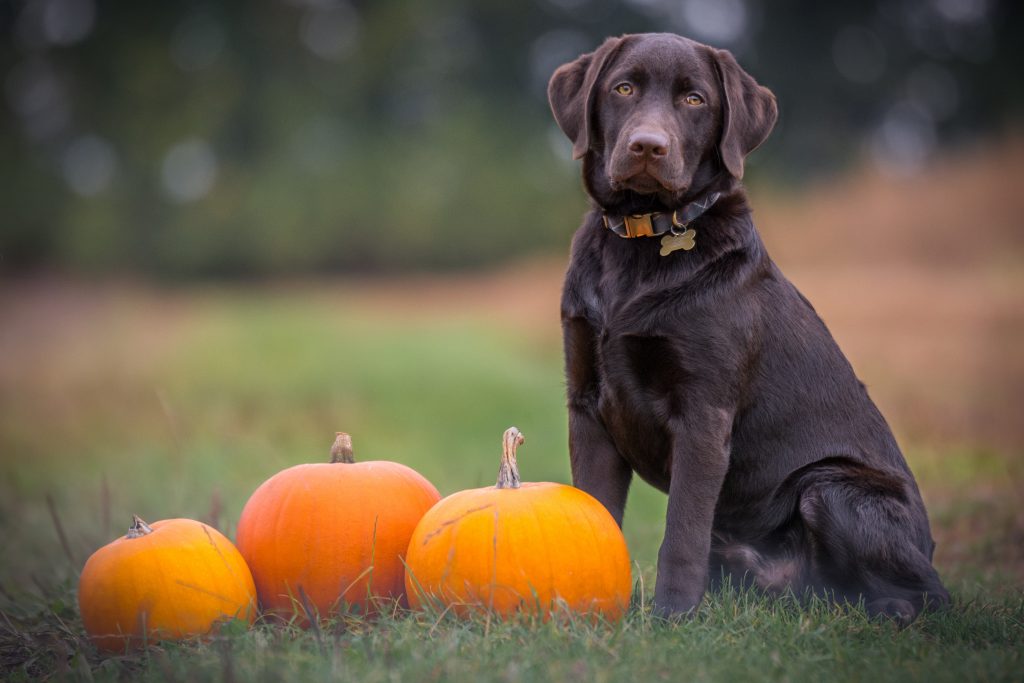 Halloween can be scary for your pet, or it can be like any other day with careful planning and consideration for your pet.  Remember your first concern is your pet's health and safety, and if that can be accomplished while dressing your dog as the Toto to your Dorothy, your Halloween will be one to remember.